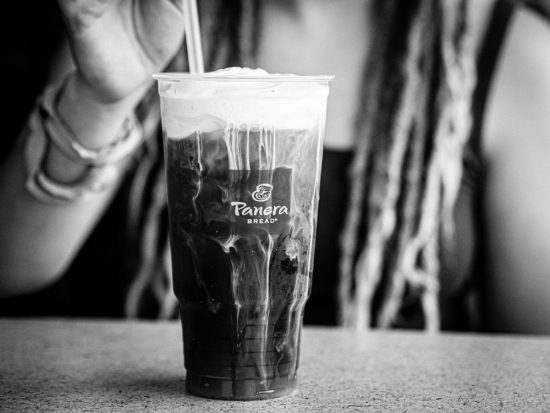 Panera Bread is a popular fast food establishment enjoyed by many people across the country. With a wide array of soups, salads, sandwiches, and pastries, it's no wonder they have a large customer base. While it may be a fan favorite, it's also known for being a little pricey in comparison with some of its competitors. However, Panera Bread offers several ways to save money at their locations. Plus there are some smart dining out tricks that you can implement to save even further. Here are twelve ways to save money at your local Panera Bread:
1. MyPanera Rewards Card
Like many restaurants or businesses, Panera Bread offers a customer loyalty card. It comes with many rewards that you can earn over the course of your visits to their stores. In fact, you get a free item upon registration. For example, in 2020, if you sign up for the card in the summer then you get unlimited free coffee with no fees through September 2020. (You can get any size, any flavor, once up to every two hours during this promotion.) And, of course, registration for the card is free. You don't have to pay anything to be a member.
Additionally, the card offers various free items throughout the year, as well as for your birthday. It will also occasionally update you about special deals and promotions happening at your local store. This is one of the best ways to stay on top of your options to save money at Panera Bread.
That said, remember that rewards cards are designed to keep your loyalty. They want you coming back again and again. If you go there to get your free birthday reward, but then you buy other things when you weren't planning to go there in the first place, then you're spending money, not saving it. So be smart about taking advantage of the Rewards perks without caving to the pressure to buy more.
2. Tip: MyPanera Rewards Card Hack
You can earn more rewards using your Panera rewards card by separately ordering your purchases. The reward card gives rewards depending on the number of purchases you make, but doesn't void purchases made on the same day.
So, if you buy five breads all at once, that counts as a single purchase toward your next reward. In contrast, if you buy those five breads separately, then you earn five purchases toward the next reward. Therefore, for those who want to earn faster rewards (and the discounts that come with them), splitting the purchases is a good option.
Of course, be respectful of the people who are working at the store and in the line behind you. Try to choose less-busy hours for such purchase.
3. Follow Panera Bread's Social Media and App
If you're an avid social media user, you should consider following, or at least routinely checking, Panera Bread's Facebook and Twitter accounts. Social media sites are a great way to keep up to date on what businesses are doing, especially when it comes to new menu items, special discounts, or promotions that are happening. You never know what new or useful information you may find.
Make sure that you also sign up for the Panera Bread app. This is especially useful if you've signed up as a rewards member. It's the number one place, other than their actual website, to get information about their latest deals, offers, new products, and more.
4. Gift Cards
In 2020, Panera Bread is offering a 20% discount on their gift cards, including eCards. The sale is only through September 7, 2020, but this is a great reminder that gift cards can be a way to save money at restaurants.
For example, another option would be to use your credit card rewards points to purchase Panera Bread gift cards. Then use those cards to treat yourself to Panera. You're not spending any money since you used points to get those cards.
If you really love Panera, then you could also ask family members to give you gift cards there as presents rather than purchasing something for you that you might not want.
5. Special Deal Days
Panera does have special deal days on certain items. For example, you can currently get 13 bagels for $8.39 every Tuesday. That's more than four dollars off the usual cost of a baker's dozen of Panera Bread bagels.
Note that their deals change regularly. Moreover, they can be different from location to location. Ask the cashiers at your local store what the current deals are.
6. Panera Bread: Know The Menu
One of the best ways to save money at Panera is to know the menu. Sometimes the "double" deals they have are actually more expensive than if you had ordered the two items separately (and sometimes the opposite is true as well).
Also make sure that you know what "secret" menu items you can order, since these can be cheaper than the items stated on the menu. When in doubt, just ask the cashier about the secret menu options.
Most importantly, though, it's good to know the menu because it will help you choose in advance what you want to buy. If you take the time to thoughtfully plan out your meals, then you'll be better off. You'll choose the most cost-effective options that are suitable for your diet. This helps you avoid impulse purchases, and therefore helps you save money.
7. Avoid Desserts
Speaking of planning ahead, make sure that you avoid the desserts. (Unless, of course, you're going there specifically to purchase a dessert.) Most of the time, people buy them because they're on display and look so tempting. If it wasn't in your meal plan to begin with then save yourself the time and calories by skipping them.
8. Get Free Water Instead of Buying a Drink
Similar to avoiding desserts, buying a drink is something to be avoided not only because it's expensive, but also because you don't really need to buy a drink. Panera will give you a cup for water free of charge if you ask for it, so there's really no reason to be spending money on a soda, iced coffee, or smoothie.
Of course, with the 2020 promotion, you can also get free coffee at Panera Bread. Look for the deals like that and splurge (without spending a dime) to get a nice beverage treat.
9. Don't Order Sides
In most fast food or takeout places, adding sides to your order will only make it more expensive. There's a cost for cream cheese for your bagel or salad dressing for your salad. Panera has an entire section of their menu devoted to sides, and even though the most expensive may be no more than a few dollars, it's still smart to avoid ordering sides if you're looking to save money. Again, knowing the menu and planning in advance will go a long way towards avoiding falling into such a trap.
10. Split Your Meal with Someone
Another great way to save money at Panera is to split your meal with a friend, coworker, or family member. Panera has a lot of deals that let you combine soups, salads, and sandwiches for under $10. If you're grabbing a quick bite to eat, think about ordering with a friend and splitting the cost.
Alternatively, you can buy the cheap big meal and immediately put half of it in a to go box for later.
11. Panera Bread Coupons
Panera Bread is one of the few businesses in the fast food industry that does not have regularly recurring coupons. Since coupons are so rare, finding some is like hitting a goldmine. That said, it's not impossible to find Panera Bread coupons. Check sites like Groupon. Do a quick online search before heading out to Panera. It's always worth it to look.
12. Remember Panera Isn't Your Only Option
Even if you love Panera Bread and want to go there regularly, don't limit yourself to that one restaurant. Look for other deals in your area of comparable food options. If the prices are lower, or there's a great coupon, then try something new.
And, of course, it's almost always cheaper to make yourself a sandwich at home than to buy one at a restaurant. Ask yourself if you need to dine out at all. That's truly the way to save money!
Read More:
If you enjoy reading our blog posts and would like to try your hand at blogging, we have good news for you; you can do exactly that on Saving Advice. Just click here to get started. If you want to be able to customize your blog on your own domain and need hosting service, we recommend trying BlueHost. They offer powerful hosting services for $3.95/month!
tinyurl
is.gd
u.nu
clck.ru
ulvis.net
shrtco.de